Reported Hamas operative arrested after terror alert in Netanya
---
Lapid: Why antagonize America?
Finance Minister decries Israeli acquisition of West Bank land
Bennett: 'Hamas murders and we build'
Israel-hating U.N. condemns move, makes no comment on UNRWA's collaboration with terrorism
---
Knesset sets up panel to analyze Israel's performance in Gaza war
---
Barely days after Gaza war, U.S. secretary of state demanded new concessions from Netanyahu
---
Community threatened by terror tunnels feels abandoned by IDF withdrawal
As their kids head back to school
---
Civil War Lights Up the Border
Syrian forces shoot it out with rebels near the Golan Heights
Stray mortar lands on Israeli side
---
Good News: Aid Group Says it Will Take 20 Years to Rebuild Gaza
Might Gaza's rulers be too busy to launch war?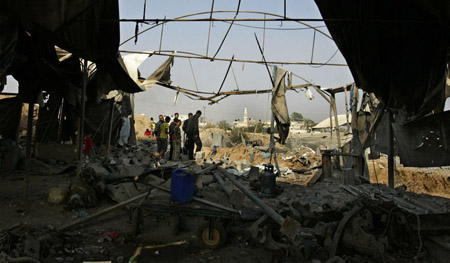 P.A. Complains it Has No Money
'The government's budget is below zero'
Lieberman: Israel Should Topple Hamas, Not Reoccupy Gaza
---
Reports fly that former Hamas interior minister was Israeli agent
Pew Poll: Americans Sympathize With Israel More Than Palestinians
Steinitz to U.S. lawmakers: Global coalition needed to defeat terror
---
Cleveland State and Univ. of Haifa formalize relationship
---
Netanyahu-hating former envoy Martin Indyk says government damaged relationship with the U.S.
---
U.S. Jewish leaders' responses to Gaza ceasefire run gamut from relief to outrage
---
Anti-Israel Prof Back at Trinity
Israel supporters fear replay of academic boycott feud